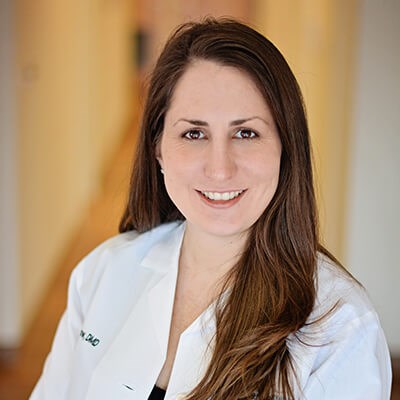 Dr. Adrienne Wimbrow graduated from Clemson University with a Bachelor's degree in Food Science and Human Nutrition in 2003. She went on to earn her Doctor of Dental Medicine degree from the Medical University of South Carolina in 2010. She furthered her education by obtaining a degree in Advanced Education in General Dentistry in 2011. During her college career, she received several honors, including Second Honors Graduate, MUSC, Omicron Kappa Upsilon Dental Honors Society, Hanau Best of the Best Prosthodontics Award, and the Provost Dental Medicine Scholarship. Dr. Wimbrow has demonstrated her commitment to professional excellence through attending continuing education courses in the areas of IV sedation, implants, preprosthetic surgery, extractions, general dentistry, prosthodontics, endodontics, and cosmetic dentistry. She is committed to providing gentle, quality dental care to her patients while integrating the latest technology and procedures. Dr. Wimbrow currently resides in Williamston with her husband Jeremy and daughter Emma. When not practicing dentistry, Dr. Wimbrow enjoys running, knitting, hiking, and cooking.
Reviews
"Everyone is extremely friendly and accommodating. Will go back anytime. Great Job!!"
J.A.
Google
"Friendly staff, modern facility. My first visit was for x-rays, cleaning and an exam. Before I left, I made an appointment for my next visit. I really liked them and recommended my husband start going there. :)"
B.M.
Google
"Great staff. Very friendly and give excellent care."
K.S.
Google
"Got to brag on Dr Wimbrow,I had a fully impacted wisdom tooth for years,I was told more than once that removal would be major surgery. She took one look at the X-ray and asked; you want it out now or tomorrow? Next day I was in and out in less than hour.All those years of worry and aggravation gone,that was yesterday,today I can hardly tell it was done. I'm recommending Dr. Wimbrow DMD as the best I've ever seen. I'll be back. Sincerely Bobby M Ashley ; Honea Path 6-29-16"
B.A.
Google
"The staff was excellent and fast, my waiting time was just a few minutes . The procedure was long but I was not the Dr.'s falut it was my tooth, she did an AWESOME job and the dental tech explained everything that was going no with that tooth??"
S.J.
Google